By Tom O'Connor
January 14, 2021
ran appears to have sent deadly drones to its allies in Yemen as Middle East tensions heat up across the Red Sea, another major flashpoint where rival forces operate, Newsweek has learned.
Imagery seen by Newsweek and confirmed by an expert who follows Iranian activities in the region indicate the presence of Iranian Shahed-136 loitering munitions, also called "suicide drones," deployed to the northern Yemeni province of Al-Jawf, an area of the country controlled by the Ansar Allah, or Houthi, Zaidi Shiite Muslim rebel movement.
"The Iranians have delivered to their Houthi proxies in Yemen advanced UAVs," the expert, who spoke on the condition of anonymity, told Newsweek. "They are forward deploying or prepositioning these drones in order to stage an attack against a variety of targets they have within range."
The unmanned aerial vehicles, or UAVs, are weapons assessed to have an effective range of 2,000 to 2,200 kilometers, or roughly 1,240 to 1,370 miles, drawing a massive radius across the region in which a potential attack is suspected to be in the works.
"What they're trying to achieve is plausible deniability," the expert said, "as in being able to strike either a U.S., Saudi, Gulf, or Israeli target and then having the strike traced back to Yemen, and hoping for deniably against any kind of retribution."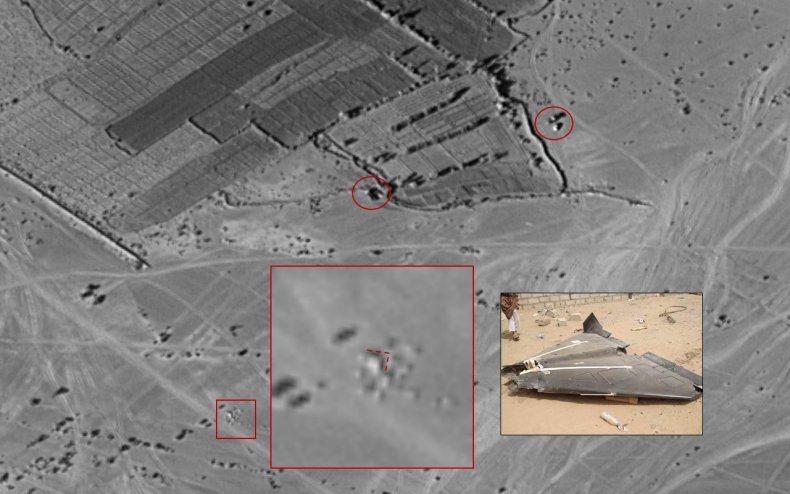 The latest developments come amid an apparent spike in Red Sea activity, where Iran's top general, Major General Mohammad Hossein Bagheri, revealed Wednesday he was to send warships to patrol.
"We are once again in the region of the Red Sea, where the Islamic Republic's merchant vessels have faced some limited aggression in recent times," Bagheri said. "We will deploy our naval patrol and establish full security for our oil and commercial fleet in that sea."
Unveiling two new warships, the Zereh missile-launcher and Makran helicopter carrier, Bagheri proclaimed that Iranian forces would not allow their foes to flex their muscles in the face of the Islamic Republic. His remarks coincided with naval exercises in the Gulf of Oman, which follow last week's drone drills involving new and advanced UAV technology, including loitering munitions.
Vessels from other nations have also been targeted in the Red Sea in recent years, with the latest reportedly being an unidentified ship struck Christmas Day by a sea mine suspected to have been planted by Ansar Allah, according to Saudi Arabia's Al Arabiya. Dec. 25 also happens to be the date of the images seen by Newsweek apparently showing the Shahed-136 deployed to Yemen.
Saudi vessels have been involved in other alleged acts of sabotage blamed on Iran in the Gulf of Oman, which feeds into the Strait of Hormuz, the world's most important maritime oil chokepoint. Not far from the shores of the Persian Gulf, two Saudi oil sites in Abqaiq were attacked in a September 2019 strike claimed by Ansar Allah but blamed on Tehran by Riyadh, Washington and several other governments.
Among the munitions Saudi Arabia said were employed in the operation was the Shahed-131, a predecessor of the more advanced Shahed-136.
Newsweek