February 28, 2020
With coronavirus cases rising sharply in Iran, analysts warn that some countries with close ties to the Islamic Republic could create a dangerous vector for the disease to spread across the Middle East.
Syria, Lebanon, and Yemen – where Iran funds and supports militia groups tied to Iran's Islamic Revolutionary Guard Corps (IRGC) and its Quds Force – have dilapidated health care systems, weak institutions, and high refugee populations. This vulnerability, combined with their open borders with Iran, puts them extra at risk from coronavirus, warn experts.
"Iran is the corona bomb of the Middle East," said Saeed Ghasseminejad, senior Iran and financial economics adviser at the Foundation for Defense of Democracies (FDD).
Syria, Yemen, Lebanon still have open borders with Iran despite risk
Iran is the epicenter of coronavirus in the Middle East and, the regime in Tehran has reported the highest number of deaths outside China.
As of today, 26 people have died from the virus and 245 have been infected in Iran, according to the semi-official Fars news agency.
Travelers from Iran have shown symptoms of coronavirus in countries across the region from Bahrain and Kuwait to Iraq and Lebanon.
Surrounding countries have shut borders and halted flights with the Islamic Republic to protect their own citizens. Noticeably absent from this list are Syria, Yemen, and Lebanon – although Beirut has announced it is limiting the number of flights and halting religious pilgrimages to Iran.
Iraq is the only country in which Tehran has a proxy organization to shut borders with Iran. Syria and Yemen are yet to report any cases of coronavirus, but with ongoing civil wars in both countries, coronavirus has the potential to be disastrous should it reach those countries.
"Iran's neighbors' only solution is to limit or cut travel to and from Iran. This will have a serious financial effect on both Iran and its main trading partners in the region," Ghasseminejad told Al Arabiya English.
Tehran's presence in the region
Iran has influence in countries across the region through its proxy organization network.
Tehran's reach in Syria, Lebanon, and Iraq has deepened over the years as Tehran seeks to form a presence in the so-called Shia Crescent across the region. In Yemen, Iran has backed the Houthi militia and supplied weapons to the group.
"Iran is largely believed to be shipping weapons and associated component parts to the Houthis over land and via sea. In this regard, their footprint in Yemen in comparably smaller than the northern tier of the Middle East. Nonetheless, it is believed that Iran does have Quds Force personnel in the country, but their whereabouts and extent of their travel is unknown," said Behnam Ben Taleblu, senior fellow at FDD.
In all these countries, Iran's actions – as they seek to counter other regional actors' influence in the region – have had destabilizing effects.
Now, that presence may be a driver in spreading coronavirus, according to Ghasseminejad.
"It is also essential to understand that the IRGC and its Quds Force will be among the main spreaders of the virus in the region. The Quds Force's vast regional presence, its connection to numerous proxy forces, and its ability to pass borders without being vetted by local authorities make the Quds Force the main threat to the public health in the region," Ghasseminejad told Al Arabiya English.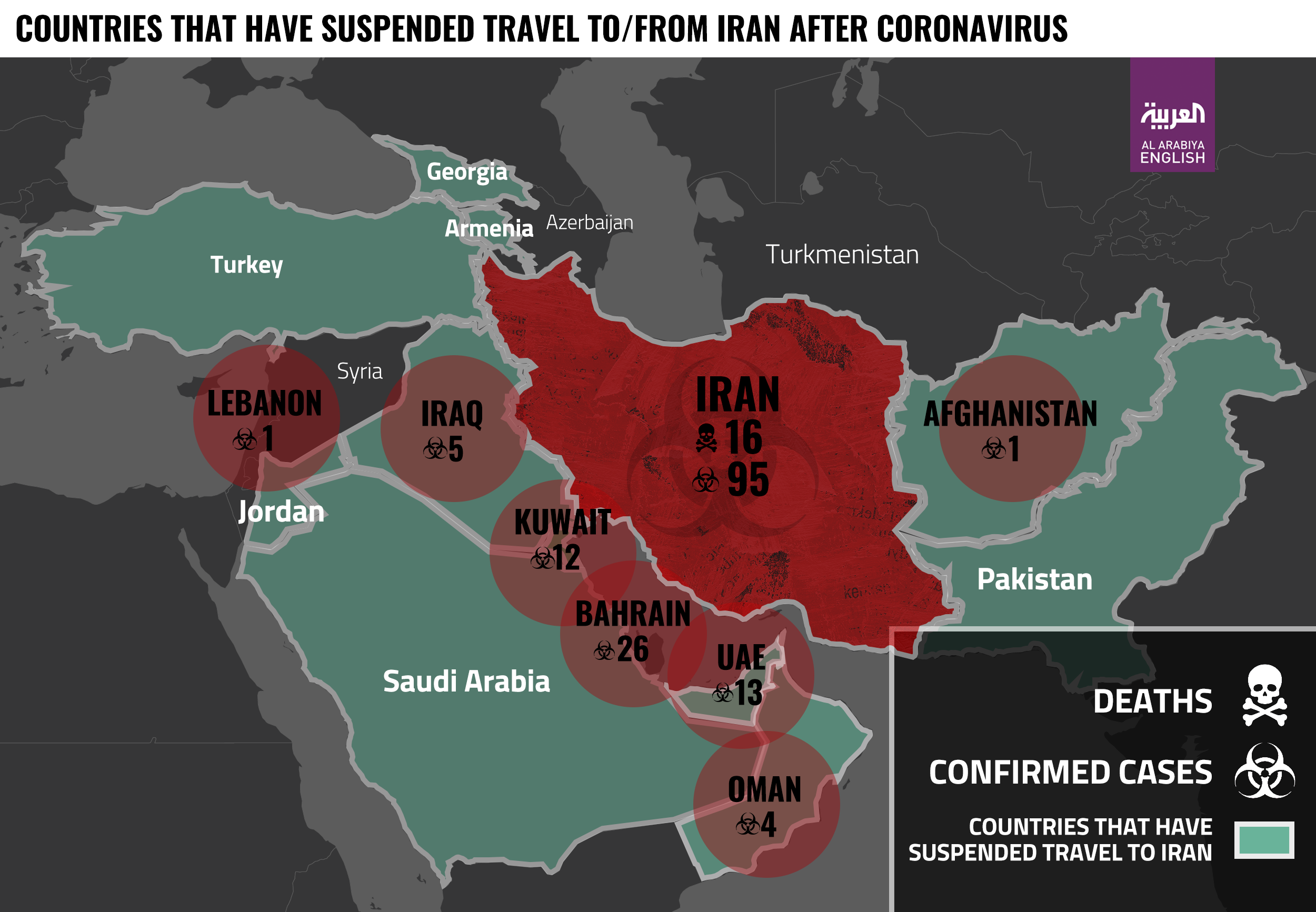 Vulnerable to infection
These populations are inherently vulnerable and ill-equipped to cope with outbreak of deadly disease.
In Yemen, as of June 2019, there were 326,620 internally displaced persons (IDPs) according to data from the UN Refugee Agency (UNHCR). And the cholera outbreak in Yemen is a stark reminder of the country's frail health care system.
In Syria, there are more than 7 million IDPs, according to UNHCR data. Similar data show there are 300,000 IDPs in Iraq. Battered by years of war, the health care systems in the
Al Arabiya